Schaeffer's Acid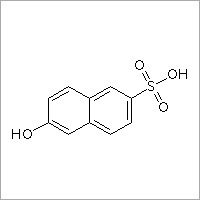 Schaeffer's Acid
Product Description
We are recognized all over the world as impeccable manufacturer and supplier of best quality Schaeffer's Acid. These acids are supplied in the form of wet cake and are known for their high pH value. Our offered chemical acids are formulated using premium quality components that are sourced from the credible vendors of the market. The provided acids are ideal to be used as intermediates for making dye stuffs & food colors. Schaeffer's Acid is packed in air tight and chemically protective containers for the final dispatch process.
Features:
Very reactive

Accurate composition

Free from adulteration
Schaeffer's acid details

IUPAC Name : 6-hydroxynaphthalene-2-sulfonic acid
CAS Number : 93-01-6
Chemical Formula : C10H8O4S
M.W. : 224
Empirical Formula : C10H8O4S
Synonyms : 2 - Naphthol 6-Sulphonic Acid Or 2 - Hydroxynaphthalene-6-Sulphonic Acid
Form Supplied : Wet CakeBasis For Sale : On Real Content, M.W. 224
Packing : H. D. P. E. Bags with inside polythene liner.

Technical Data

Description : Dull Whit To Light Coloured Moist Meterial.
Nature of Material : Sodium / Potassium Salt.
Strength : @ 60 To 65% (Wet Cake)
Solubility : Soluble In Water.